By Stephen Burt
One of the interesting and rather unexpected benefits of compiling One hundred years of Reading weather, the book Roger Brugge and I have written as part of the Department's 50th anniversary commemoration, was the unexpected insights provided into Reading's social and economic history.
Zeppelins at 9 o'clock
Weather records commenced at what was then University College Reading in 1901, at the London Road site, where they continued until the move to Whiteknights in 1968. A few of the early observation registers are missing, but we have an almost complete daily record of temperature, rainfall, barometric pressure etc. back to 1908.
The observations registers contain a 'remarks' column, and twice in 1916 the presence of zeppelins (early aerial bombers, from the Imperial German air forces – Figure 1) over Reading was noted during the observation. On Monday 6 March, a sunny morning with a light frost and a northerly wind, there is reference to a 'Zepp fright'. The Reading Mercury carried this account at the time:
"On Monday morning about one o'clock, when the stillness of the night was broken by hooters calling loud and long, the public were naturally somewhat alarmed, though nothing resembling a panic ensued.
For about a quarter of an hour these nocturnal voices warned people of the danger that threatened. Cocks crowed and dogs barked. Many people jumped out of bed and dressed. Some sat up all night, but the majority went to bed again after an hour or so on learning that the expected raid hadn't materialised.
One family hurriedly collected their money and insurance policies and stood out in the garden for a long time, but this incident was not at all a typical one. Indeed, the prevailing mood was one of calm – like the man who, when his slumber was broken by a cry of "Wake up – Zeppelins!", muttered "—- the Zeppelins", and with an angry grunt went to sleep again […]
At 3: 15 a.m., a message was received that the danger had passed, and Reading was herself again."
Source: http://www.arborfieldhistory.org.uk/WW1/WW1_Zeppelin_Raid.htm
Figure 1. German military zeppelin during the Great War. Source link
Three weeks later, on Friday 31 March – a sunny, hazy morning with a light south-westerly breeze – there is reference to 'Zepp No. 2'. It would be interesting to delve further into Reading's local history to see whether there are any further references to local zeppelin raids on these dates.
Who owns ice skates?
In 1929, it would appear, many people did. One of the marvellous series of weather-related photographs kindly unearthed for us by Ann Smith from Reading Central Library was this photograph (Figure 2) of people skating on Whiteknights Lake during the 'Great Frost' of February 1929. Today Whiteknights Lake is, of course, part of our university campus, but until 1947 the Whiteknights Estate was the country estate of the Marquis of Blandford.
Figure 2. Ice-skating on Whiteknights Lake, Reading, 13 February 1929, during 'The Great Frost'. The three-arched bridge is in the background. (Courtesy Reading Central Library, image 1394 315)
The weather records then made at London Road reveal the daily detail of that 'Great Frost'. February 1929 was the coldest February since 1895; the temperature remained below 0 °C for six consecutive days commencing 11 February, which remains today as the longest consecutive spell of 'ice days' on Reading's records: in this six day cold spell the temperature did not rise above -1.4 °C. February 1929 also still holds the record for the lowest February air temperature yet recorded in Reading, when -12.9 °C was logged on the 15th of that month. The month saw 14 consecutive nights with air frost, while three consecutive mornings (14th-16th) saw the temperature fall below -10 °C. The Thames froze from bank to bank through Reading, and many casualties resulted from skating activities on local streams, rivers and lakes (Figure 2): others died from hypothermia and from falls on icy ground.
What's this got to do with ice skates? It's clear from the photograph that many people then owned ice skates. Perhaps there were more regular cold spells, and skating was possible often enough to make it worthwhile owning a pair. These days, I suspect there are very few people who own ice skates. Another photograph published in our book, of people skiing in Prospect Park following heavy snowfalls early in January 1963, would probably have seemed quite unusual – because as well as the deep snow, I suspect there were not nearly as many people owning their own skis in 1963 as is the case today.
Muddy trenches
With much recent documentary coverage of the beginnings of the First World War, or the Great War as it was referred to at the time, we are all familiar with images of the awful conditions along the battlefield front lines during that slow-motion conflict. Contemporary images and accounts of muddy fields and trenches and heavy artillery being dragged through the clinging mud (Figure 3) are ubiquitous, and until recently I had simply assumed that the mere fact of artillery barrages and transport of heavy materiel would have been sufficient to account for the muddy conditions. But when preparing the book, Roger and I (re-)discovered just how wet the period of the Great War was.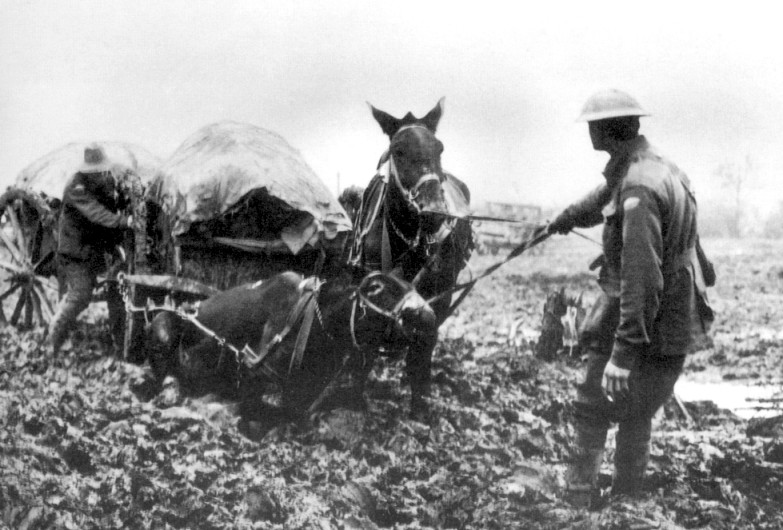 Figure 3. Horses struggling to transport heavy munitions in muddy conditions near the front line during the Great War. Source link
Of course, Reading's rainfall records can't be expected perfectly to correspond to those recorded in the trenches of northern France and Belgium at the time, but they do throw some interesting light on the conditions. In the book, we drew up a table showing the driest and wettest spells on Reading's records, on periods from one day to two years. Our recent very wet winter of 2013/14 holds two of the records, for 75 and 80 day spells (382 mm fell in the 80 days commencing 14 December 2013); but the long-duration records are all held by the Great War period. Notable amongst these is the fall of 1792 mm in two years commencing 22 November 1914, covering the first two years of the Great War. Our annual average rainfall in Reading is 634 mm, so this represents three years rainfall falling in two years. Later in the war, the Julys of 1915 (130 mm), 1917 (143 mm) and 1918 (143 mm) were all exceptionally wet – in fact, these three Julys remain among the 'Top 5' wettest Julys on record for Reading to this day (the current average rainfall for July is just 46 mm). So now I know that the trenches were muddy due to the artillery barrages, the movement of heavy equipment – and what was, for central southern England at least, the most extreme and persistent spell of wet weather in the twentieth century, something that appears to have been overlooked in historical accounts of the Great War.
One hundred years of Reading weather by Roger Brugge and Stephen Burt is published today, 15 June 2015. It is available within the Department from Roger or Stephen, online and from both Waterstones stores in Reading, priced at £9.95.